A/Prof. Eugene Ek
Orthopaedic Surgeon
MBBS, PhD, FRACS
Special Area of Interest:
Hand, Elbow and Shoulder Surgery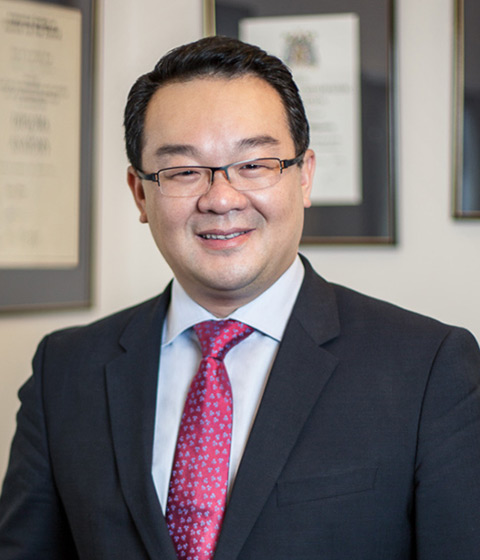 A/Prof. Eugene Ek is a fellowship-trained hand, elbow and shoulder surgeon, specialising in arthroscopic and recontructive surgery of the upper extremity.
Eugene grew up in Melbourne, Australia and received his Medical Degree with Honours from the University of Melbourne in 2001. He completed his internship and basic surgical training at St. Vincent's Hospital Melbourne, and in 2008, completed a PhD in bone and tumour biology at the University of Melbourne for research into osteosarcomas, under the supervision of Prof. Peter Choong. Eugene then went on to finish his orthopaedic training in Melbourne and became a Fellow of the Royal Australasian College of Surgeons (FRACS) in 2010.
Following the completion of his orthopaedic training, Eugene spent a further 3 years undertaking subspecialist fellowship training in shoulder, elbow and hand surgery, including 12 months as an Honorary Hand Fellow at St. Vincent's Hospital Melbourne and Dandenong Hospital under the supervision of Dr. Stephen Tham. He then continued his training overseas, completing a 6 month fellowship in shoulder and elbow Surgery at the Balgrist University Hospital, University of Zurich in Switerland under Prof. Christian Gerber. This was followed by a further 6 month fellowship in shoulder surgery at the Harvard Shoulder Service, Massachusetts General Hospital, Boston, USA under the supervision of Dr. Jon J.P. Warner.
Finally, Eugene went on to work at the Hospital for Special Surgery, Weill Cornell Medical School in New York, where he completed a 12 month ACGME-accredited fellowship in hand, upper extremity and microsurgery. During this fellowship, he was actively involved in the care of professional athletes from several sporting teams including the New York Giants (NFL), New York Mets (MLB), New York Knicks (NBA), and PGA tour golfers.
Eugene continues to be active in both teaching and in clinical and biomechanical research. He has published over 70 peer-reviewed research articles and several book chapters, and regularly presents at national and international conferences. He has public/academic appointments at the Austin Hospital, University of Melbourne and at Dandenong Hospital, Monash University, where he holds the position of Adjunct Clinical Assoicate Professor. Eugene is also actively involved in training both local and overseas surgeons and is currently a co-supervisor of the Melbourne Orthopaedic Group Shoulder/Upper limb Fellowship and also the Dandenong Hand Fellowship. In addition, he has recently served on the Executive Committee of the Victorian Branch of the Australian Orthopaedic Association (AOA) as the Scientific Secretary.