Mr David Shepherd
Orthopaedic Surgeon
BSc.(Hons), MBBS, FRACS (Ortho)
Special Area of Interest:
Foot and Ankle Surgery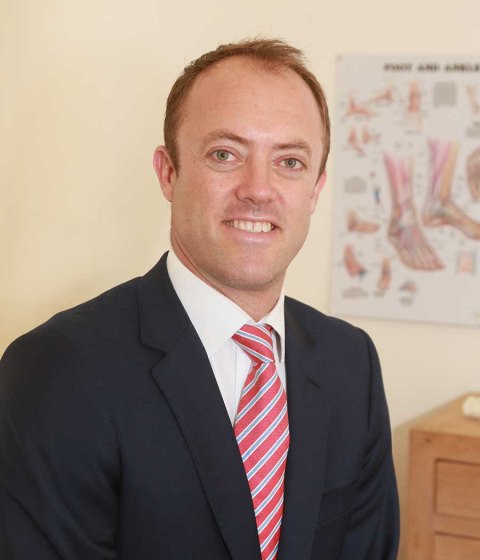 David Shepherd is an Australian trained Orthopaedic surgeon with further training in Oxford, UK and Europe in Foot and Ankle Surgery, Arthroscopic surgery and Total Ankle replacement. He has a particular interest in Patient Specific Total Ankle Replacement and modern techniques for Ankle instability.
His scope of practice covers Trauma, Sport injuries and Instability conditions, Forefoot conditions, Bunions, Degenerative and Arthritic conditions, and Deformity and Flat-foot correction.
He completed his Medical degree at Flinders University in 2001 and his Orthopaedic Training in Victoria with the Royal Australian College of Surgeons and the Australian Orthopaedic Association, and was admitted as a Fellow in 2011.
David completed a 12 month fellowship in Foot and Ankle Surgery in Oxford at the Nuffield Orthopaedic Centre. Following this he completed surgical visitations with internationally renowned Foot and Ankle surgeons in Bordeaux, Paris and Barcelona in forefoot surgery (bunions) and minimally invasive techniques. He then completed a 6 month fellowship in Lyon, France, at the Centre Orthopédique Santy, specialising in ankle, hip and knee arthroplasty. He has completed further training in Patient Specific Total Ankle replacement in Vancouver, Canada.
David joined the Melbourne Orthopaedic group in 2015. He has an Orthopaedic Surgeon appointment at Western Health, in Foot and Ankle surgery, and Trauma.
He is the Director of Training of Orthopaedics at Western Health, supervising the trainees of the Australian Orthopaedic Program.
David is the Secretary of the Victorian branch of the Australian Orthopaedic Association.
David has published internationally in his field, presented at international and local orthopaedic conferences and maintains ongoing research projects.
David is married and has 2 children.